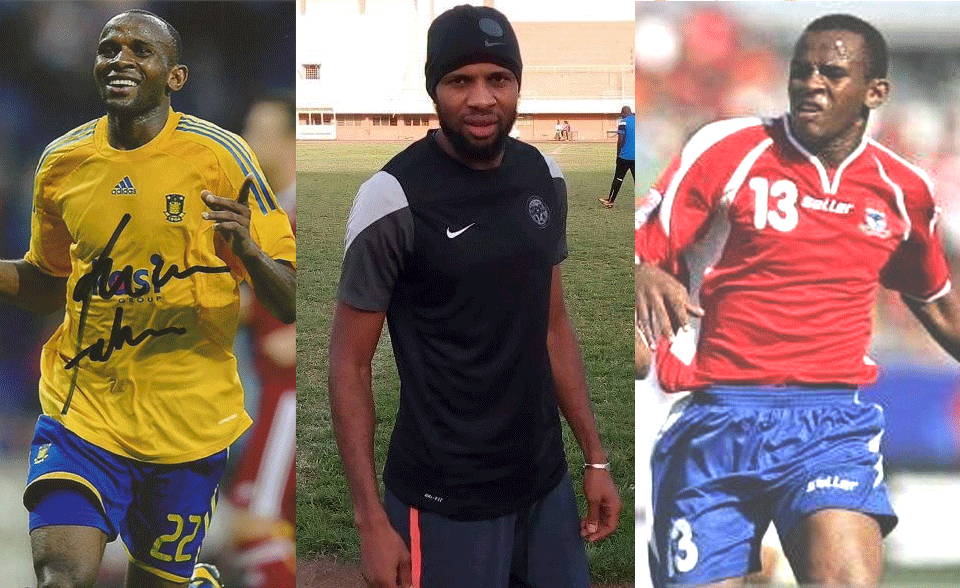 Ousman Jallow is a Gambian professional footballer who plays as a striker/forward most recently for Cypriot club Yenicami Ağdelen. He was born on 21 October 1988 in Banjul. Jallow is right footed and very prolific in front of goal.

YOUTH CAREER:
Jallow started his youth career with the all time champions Wallidan football club , His debut season was back in 2004/2015 season. He is a league cup winner and FA Cup winner, his very first season at the club. During his early Youth Career, both Premier league giants Arsenal and Chelsea chased him and nearly signed him but due to residence/work permit he could not join these clubs.
SENIOR CAREER:
In 2005 Jallow ventured beyond Gambian Borders to pursue his dreams of becoming a professional footballer thus joining Al Ain FC, a professional football club based in the city of Al Ain in the united Arab Emirates. He joined them from 2005-2008, making 47 appearances for the club and scoring 19 goals therein. He was loaned out to Raja Casablanca on July 1 2006 on a year long loan. He made 19 appearances and scored 11 goals therein. He returned to Al Ain on June 30th 2007.
However, Jallow made a breakthrough to European league by joining Brøndby IF in 2008, a Danish top tier club playing in the Danish Superliga. He Joined the club from 2008-2011, on a €1.00m deal. He made 70 league appearances and scored 14 goals therein.
Jallow left Brøndby IF on 2011 to join Çaykur Rizespor on a free transfer, Çaykur Rizespor is a Turkish professional football club based in Rize, currently playing in the Turkish Süper Lig. He joined the club from 2011-2013. He made 47 league appearances and scored 19 goals therein.
By January 22nd 2013 Jallow was without a team after leaving Çaykur Rizespor as a free agent. On Feb 27, 2015 Jallow joined HJK Helsinki on a €800Th free transfer, on a year long transfer deal. He featured in 20 games there and scored 6 goals therein.
On Feb 27, 2016 he moved to Kazakhstan to join FC Irtysh Pavlodar on a €350Th free transfer deal. FC Irtysh Pavlodar is a Kazakh professional football club. He made 21 games appearances and scored 3 goals therein.
However, Jallow had a second spell at HJK Helsinki, On Aug 8, 2016 he moved back to Finland on a €350Th. free transfer. On Jan 1, 2018 Jallow left HJK Helsinki as a free agent once more, and was without a team till Sept. 2, 2019 when he joined Yenicami Ağdelen.
Yenicami Ağdelen is a Turkish Cypriot football team based in North Nicosia. Jallow joined the club on a €150Th. free transfer deal. He was able to feature for the club only once.He left the club on Sep 11, 2019 and was without a club until June 1, 2020, when he joined Sporting Kristina, a Finnish club from Kristinestad.
INTERNATIONAL CAREER:
Jallow made his international debut on the 9th of September 2007. He was part of the youth team that participated in the  2007 FIFA U-20 World Cup. He also represented his homeland in the African U-20 Championship in 2007.
Ousman Jallow is also a member of the Gambian side that won the U-17 African Nations Cup on home soil in 2005 and he scored the winning goal in the final. He made 7 games with the U20 team and scored 5 goals for his country. He also featured for the senior team, featuring in 14 games and scored 2 goals therein.
HONOURS:
Jallow won the double in the Gambian domestic 1st division league in 2004/2015 season, both league cup and FA Cup. He is a 1x Finnish Champion winner with HJK Helsinki in 2017, a 1x Finnish Cup winner with HJK Helsinki in 2017, a 1x Finnish league cup winner in 2015. A 1x U-17 African Nations Cup winner in 2005.
Please share and like us: