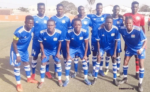 GFF League Update- Match Day Four: GPA1-0 GAF
In GFF League Div One, Gambia Ports Authority(GPA) and GAF face off each other at the Banjul Mini Stadium on Monday 6th January 2020 in Match Day Four of the New Season 2019/20.
Ports took off the proceedings with a quick possession play while poking the Khaki boys at upfront but their early efforts were thwarted.
Advertisements

This was short live and putting woes to the early misses was the sending off of Coach Sheikh Adama Joof. Joof's expulsion is attributed to an exchange of unfriendly words with 1st Asst Referee Sulayman Sosseh and thus his exit from the technical area.
Despite Joof's departure, the ferry boys dominated possession and chances in the first half with Omar Johm coming close to scoring as his effort followed a rebound that crossed over the bar inches out in the 24th min. GAF regained possession half way into the game and also used the stanza to rampage against the Docyard side, but clinical defending saved Ports to any deficit.
GPA resumed the second half to dominate proceedings as the uniform men struggled to craft any obvious chances and deservingly conceded the only goal as Bakary Jatta received a perfect-inch pass from Midfielder Samsideen Sarr in the 54 Min and fired past the GAF goalie to the opposite side.
Despite changes in personnel GAF failed to find the back of the net that ended one nil to the GPA.
With the win, GPA now sits 12th on the fourteen team table while GAF suffers their first loose and now sits 3rd on 7 points.
courtesy of Gambiaff.org
Please share and like us:
Advertisements