After a long battle with a terminal illness, former Scorpions coach Peter Bomu Johnson was pronounced dead on Sunday morning 28th July, around 6:45am at the Edward Francis Small Teaching Hospital in Banjul.

In an interview with Loigic Sport News, the head coach of Hawks Football Club and the Technical Director of the Gambia Football Federation Sang Ndong, reflects back on the life and career of Peter Bonu Johnson.
"We want to thank God for bringing Peter Among us. He was a very determine somebody who always set a very high standard for himself and try to archive it. In terms of ethics and religion he was somebody who does not compromise with those two."
"Bonu went through the ranks and played for the Under-17, Under-20, the senior national team, 3rd division league, 2nd division and 1st division. When he was playing for the national team, he was a member of a team called Flemmings Football Club. Flemmings was one of the teams too strong for the 2nd division. They will always get promotion but after one or two seasons they will go back and according to records, they are one of the few teams that did this more than any other team, promotion/relegation. He was always with his Flemmings and was never tempted to leave, because there were lot of things that people could archive out side, if play for a bigger team. Like me myself, i started playing with Augustinians, one, two seasons then i wanted to move forward and i moved to Hawks and it get me were i am today. But Bonu just stayed with his beloved Flemmings, played and ended his career in Flemmings, coached Flemmings until the opportunity came for him to coach the national team."
As a defender in the senior squad, the 38 capped Scorpion netted 4 goals, one of which was an equalizer against Congo in Brazzaville.
"During the time i went for studies in Brazil, Alhaji Sillah was the head coach by then and the Gambia was playing against Congo. Peter scored a goal with the ball hitting his eye and he lost sight with that eye. But that never stopped him. He continue playing till the end of his career and eventually got into coaching."
In 2005, he won the Peace Tournament with the Under-17 national team "Baby Scorpions" here in the Gambia. Later that same year, he was appointed to assist Ghana born coach Frederick Osam-Duodu for the CAF Under-17 tournament which was hosted and won by The Gambia.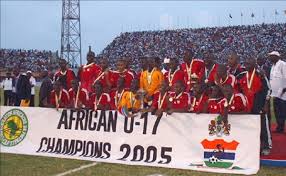 "Well he went as an assistant to the Under-17 World Cup in Peru. He also guided the Under-20 squad to 3rd place in the CAF tournament in Congo and automatically qualified for the FIFA Under-20 World Cup finals in Canada where the Gambia defeated Portugal and reached the round of 16. That's a big achievement for him and the country as a whole. Non of us as coaches, have ever done that. It doesn't matter, what ever level. He also coached the Gambia Ports Authority where he won the national league with them."
"He was also the vice president of the Gambia Football Coaches Association up to 2003 by then i was the president. This shows you how determined he was."
"Bonu hard a lot of impact in the lives of so many individuals, because most of these coaches and players you coach are from very humble back grounds. Helping them to become better players, be professional players, playing for the national team and making good money to be able to support their families, i think that's the only reward you can have as a coach."
"The other thing is his family. He worked very hard for his family and his religion. He hard his cross around his neck till he took his last breath."
"I think the GFF have given him all and even the ministry. Because when he was sick they visited him and they supported him. Even the funeral, they were also part of it. They've been there and they offered what they got to offer to the family. I think that's all Bonu could be offered and could be seen for. He was a very humble and simple guy. So he deserved a very humble and simple funeral."
"There were other people that were like Bonu, but you know these are things that we should learn to be doing while people are alive. I've heard two legends saying that "if i should be honoured, i want it to done while i'm alive." That would be good, but he is gone. But there are other people gone before him. We hard B.O Fofana, Babou Ceesay, Ousainou Njie, Alhajie Omar Sey and all these people were involved in sports. So i think is better for us to learn doing it while they are alive and who knows, he is way under the picking order because we've got lot of veterans who left, who did almost as he did. But like i said, it would have been better if they did it while he was alive."
"I don't want to remember him like the last time i saw him. Seeing him in his sick bed is something i want to erase in my memory. I will always want to remember him as a very active footballer, a very discipline and a hard working coach. That is the memory i want to keep for myself. I pray that the Almighty grant him the highest heaven and may his gentle soul rest in perfect peace."
He was finally laid to rest yesterday at the Old Jeshwang Christian cemetery.
He is survived by his wife Mrs Monica Musa Johnson, a former Gambian beauty queen and his children.
By: Gabriel Joof
Logic Sport News
Photo Credit: YouTube/Twitter
Please share and like us: